Here are today's Ottawa Sun letters to the editor.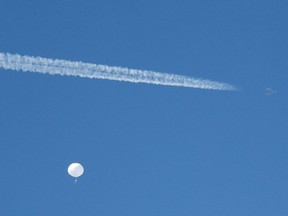 article content
china balloon burst
article content
In re 'indiscriminate use of force'; China condemns US bursting of spy balloon, Feb 7
article content
So China accused the US of shooting down their "wrong" balloon with indiscriminate force. If it was as innocent as China claims, and had legitimately strayed, why didn't China advise all countries that the balloon could potentially blow away, that it was loose and not controlled could have been done? Instead, they decided to keep quiet and hope it would float merrily on its way (and mission), and remain undetected.
Now, China can claim membership in that famous American organization, the CIA, as caught in the law.
For a balloon violating Canadian airspace, the Trudeau government's response of providing little information is another violation. Violation of King Justin's pledge during the 2015 election campaign to operate a more open, transparent and accountable government (remember that, Justin?). Some transparency when Canadians receive more information from the Pentagon and the White House than from our own officials.
article content
Our dependence on another country for information is disgusting, shameful; Another example of Justin embarrassing Canada on the world stage. What else should we expect from comrade-loving Comrade Justin, other than silence, who has long been praising the communist Chinese system?
When China reserved the right to take "additional steps" should President Biden shoot back (pun intended) he also reserved that right – including the right to shoot down any future "wrong" balloons was also involved.
mike allen
Ottawa
(Perhaps both China and Canada are full of hot air?)
not much crisis cash
So since when was austerity on the prime minister's radar? With the long-awaited meeting between the premier and the prime minister, talks on the health care transfer are finally taking place, with the PM offering an extra $46 billion over just 10 years.
article content
Now for a government that is not even sure where the substantial amount of hundreds of billions they have spent over the last few years has gone, doesn't that sound a bit tight, as our country is facing the worst health ever- its Care crisis in history?
al wiley
edmonton
(Regardless of what level of "giving" the government is doing, it's all our money anyway.)
money well spent
To anyone who thinks that the money and equipment sent to Ukraine is money we will never get back, I want to remind them that World War II was started by an aggressor like Vladimir Putin.
If Ukraine, with all of NATO's help, can repel Russia, it will prevent this war from escalating into a global conflict.
It is also a clear message to China that the world is able to unite for a cause and perhaps make it reconsider its future plans.
Wayne Boyce
Carlton Place
(But can NATO stay together enough to send in Putin's troops? That is the question.)
You said: glory years

You Said It: A Place for Bill C-14