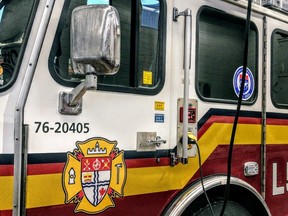 article content
Eight people are being assessed for injuries Monday morning in an explosion caused by a gas leak under construction in an Orleans subdivision.
article content
Ottawa Fire Services posted a message on Twitter just after 7 a.m. warning people to avoid the area near Tenth Line Road and Shallow Pond Place.
article content
The post said the blaze destroyed "several homes" that were under construction. The gas was still leaking.
article content
Marc-Anton Deschamps, a spokesman for Ottawa Paramedic Services, said first responders were at the scene to assist firefighters.
Eight people were being assessed, he said around 7:20 a.m.
article content
Ottawa Police said 10th Line Road is closed between Wall Road and Decoeur Drive.
article content
Buses are on the scene to warm people, Ottawa police said in a post.
Ottawa police said those displaced from their homes can go to 2370 10th Line Road or 10th Line and Sweet Valley and police or fire officials will direct them.
more to come.